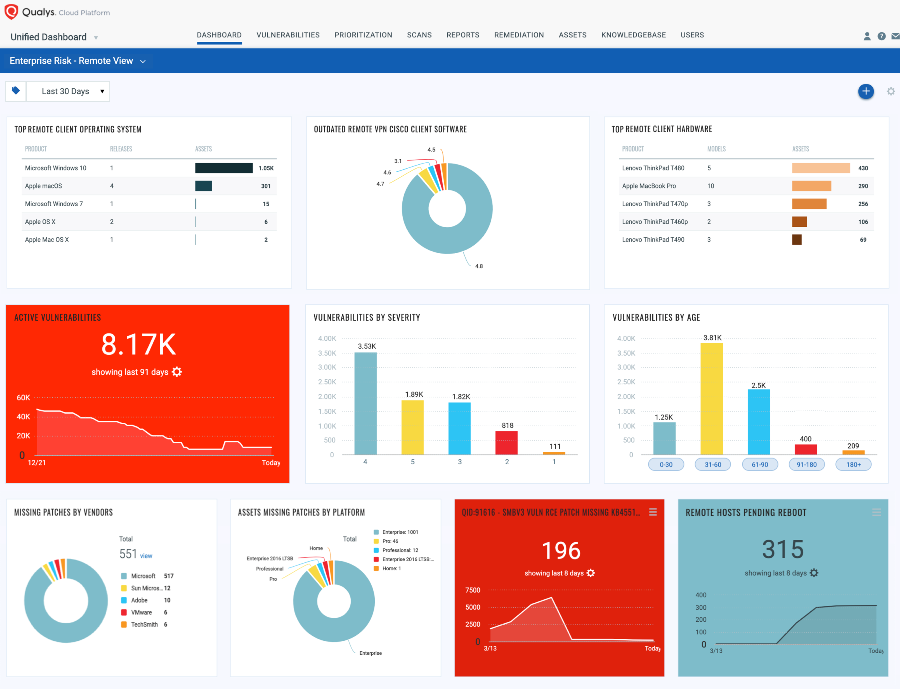 Instant security assessment, total visibility and remote patching with zero impact on VPN bandwidth, which helps ensure continuity and efficiency for Italian businesses
Qualys, Inc. (NASDAQ: QLYS), a pioneer and leading provider of cloud-based security and compliance solutions, has announced the availability of its Cloud Platform free of charge for 60 days to customers, the complete endpoint protection solution that enables IT and security managers to protect the computers of those who work remotely.
To activate the free 60-day offer, consult www.qualys.com/remotepatching/. The service will initially be available to Qualys customers. Distribution to further interested parties is managed based on the registration date.
Qualys' remote endpoint protection solution enables security managers to use the low-impact Qualys Cloud Agent to:
Compile an up-to-date inventory of all hardware devices on remote endpoints and applications that are running
Get a real-time picture of all critical vulnerabilities that threaten the operating system and applications that pose a risk to devices
Patch systems remotely directly from the cloud in a few hours and with a simple click, without burdening the bandwidth available on VPN gateways
Gain full visibility into the IT status of devices by identifying common configuration errors that expose endpoints to attack
In sintesi, la soluzione gratuita per la protezione degli endpoint remoti cloud-based di Qualys consente ai responsabili della sicurezza di ottenere una visibilità istantanea e continua sui computer che operano da remoto, di rilevare le vulnerabilità critiche a cui non è stato posto rimedio e provvedere all'applicazione delle patch attraverso il cloud. L'applicazione delle patch in modalità protetta avviene direttamente dai siti dei vendor e dai contenuti delle reti di distribuzione con impatto minimo o nullo sulla larghezza di banda delle VPN esterne.
Customers who already use Qualys Cloud Agent can easily enable patching through the Qualys Cloud Platform without performing any intervention on client systems. Alternatively, you can deploy the low-impact Cloud Agent on computers remotely.
"We are proud to be able to support companies in addressing this critical moment, offering an effective solution to ensure the security of all corporate and personal computers" - said Philippe Courtot, President and CEO of Qualys. "Our cloud-based application allows companies to assess their security and compliance status in real time, applying the necessary patches to employee devices with a simple click and remotely."
"Never before have all the organizational and operational processes of Italian companies been so severely tested as in recent weeks," - he highlighted Emilio Turani, Qualys Managing Director for Italy, Central Eastern Europe, Turkey and Greece - blocking managers and collaborators at their home. Our solution allows you to work in smart working in a totally safe and efficient way ".
Important note
The initial version supports patching on Microsoft Windows 7 and later. Mac patching support and the addition of a malware detection and protection service will be available soon.
Webinar Zoom e Qualys
Additionally, Sumedh Thakar, Chief Product Officer and President of Qualys, will hold an interview with Randy Barr, Zoom's Product Security Manager, to learn more about the new cybersecurity challenges caused by remote working. We will talk about approaches to provide security to those who work remotely while avoiding the impact on business activities. To register consult
https://www.qualys.com/webinar/remote.