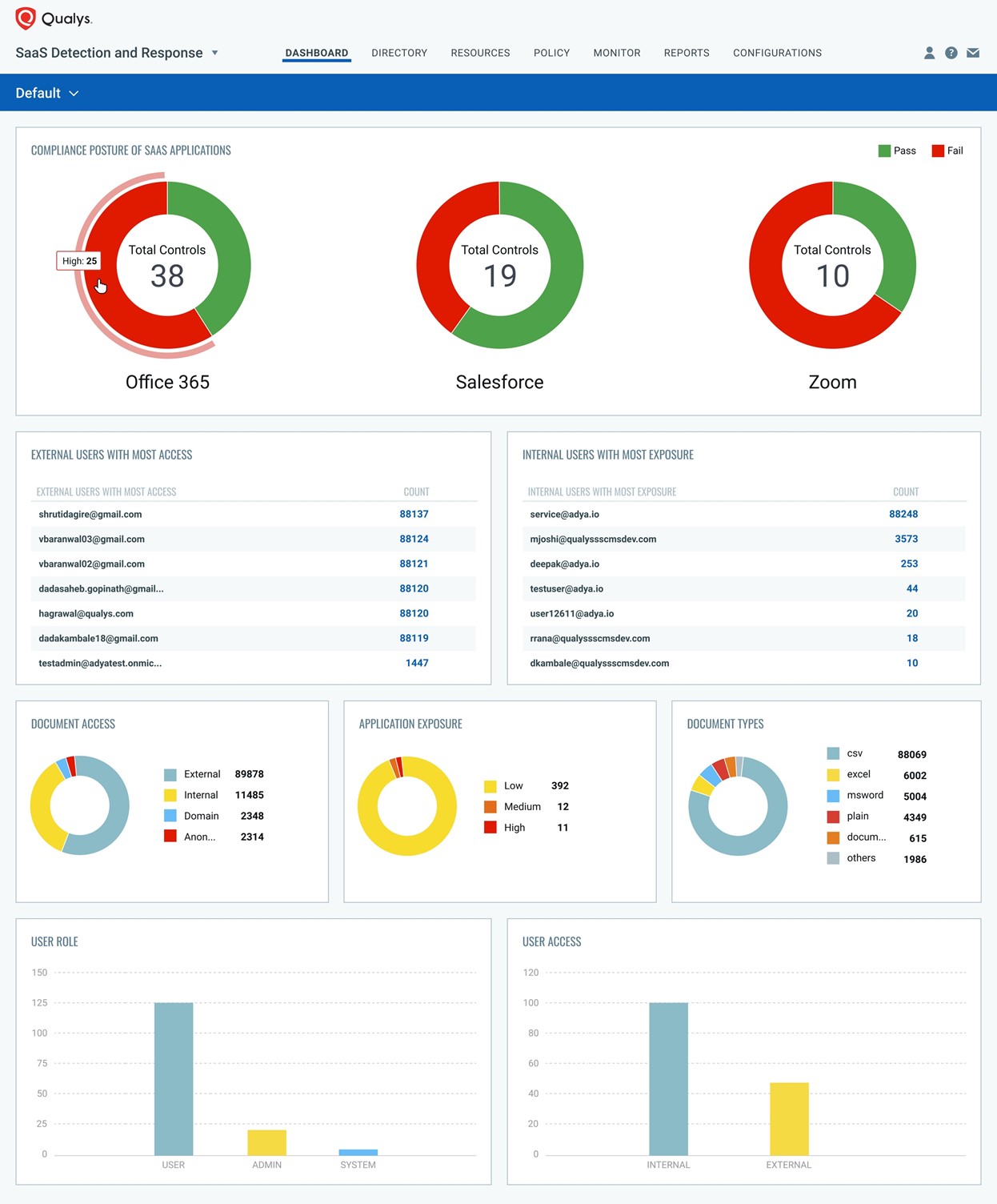 SaaS Detection and Response provides, from a single interface, continuous visibility, assessment and compliance for SaaS applications
Qualys, Inc. (NASDAQ: QLYS), a pioneer and leading provider of highly innovative cloud-based IT security and compliance solutions, unveiled Qualys SaaS Detection and Response (SaaSDR), a console where security and IT teams can have uninterrupted visibility into critical SaaS apps and ensure its safety and compliance.
Supportata dalla Qualys Cloud Platform e certificata dal FedRAMP (Federal Risk and Authorization Management Program, programma governativo statunitense che fornisce un approccio standardizzato alla sicurezza), Qualys SaaSDR semplifica e automatizza il processo di gestione della sicurezza, dei rischi e della conformità delle applicazioni SaaS. La soluzione cataloga e controlla automaticamente in tempo reale le app, i documenti e le applicazioni SaaS, consentendo di prevenire il furto e l'esposizione accidentale di dati sensibili e di fornire una profonda comprensione della postura di conformità delle app SaaS. Il rilascio iniziale offre supporto nativo per Google Workspace, Microsoft Office 365, Zoom e Salesforce.
"Qualys SaaSDR helps ImagineX manage the security and compliance of our Microsoft Office 365 and Google Workspace deployments. It provides the security team with visibility and control of critical SaaS apps, all from a single screen, strengthening the security posture of the applications. We also see SaaSDR as a must-have tool to guide our customers on the path to improving SaaS app compliance and to highlight the risks to potential data exposure, "he said. Tim Salvador, Cybersecurity Practice Director di ImagineX Consulting, LP.
"As applications migrate from on-premises to IaaS and later to SaaS, gray areas develop for security analysts, as traditional security tools don't have the necessary visibility into SaaS application stacks," he said. Frank Dickson, Program VP Security Products di IDC. "La realtà del modello di responsabilità condivisa SaaS è che l'applicazione della sicurezza e della manutenzione in un contesto SaaS è fondamentalmente diversa in quanto il SOC non ha il controllo del sistema operativo e dello strato applicativo. La sicurezza, la cura e la gestione devono essere applicate utilizzando un approccio API-centrico, sfruttando i dati e le norme di identità. Qualys cerca di fornire visibilità delle applicazioni SaaS al SOC attraverso una raccolta di dati senza attrito per una valutazione più profonda, supportando le policies CIS per Office 365 e Zoom e sfruttando le potenzialità della tecnologia di gestione della postura Qualys per aumentare l'identità e il contesto dei dati. Qualys SaaSDR fornisce una pratica soluzione plug-in per assistere i CISO nel monitoraggio e nella gestione dell'esposizione dei dati e della conformità della sicurezza delle loro applicazioni SaaS".
With Qualys SaaSDR, enterprises have a single solution to manage their SaaS apps, providing:
Visibility of users and devices - Automatic compilation of the inventory of users and user groups (internal and external) who access SaaS apps with indication of the files and folders that users own and can access. It also collects detailed endpoint information - such as data on assets, location, active services, installed software, and more - all from one simple centralized screen.
Effective access control - Complete control over user access permissions and data access rights to quickly review and thoroughly assign the appropriate access levels using a single interface.
Insights into data exposure – Analisi delle applicazioni SaaS e delle app di terzi per individuare immediatamente i punti deboli che mettono a rischio la sicurezza come autorizzazioni errate, file a rischio, modifiche ai file, errori di configurazione, vulnerabilità critiche ed exploit tramite funzionalità avanzate di threat intelligence.
Safety and compliance posture – Valutazioni automatiche e sistematiche dello stato di sicurezza e della configurazione delle applicazioni SaaS associate all'imposizione della conformità allineata ai benchmark di settore come O365 tramite CIS, PCI-DSS e NIST.
Risk assessment - The Qualys Cloud Platform correlates SaaS application information, such as user access rights and data exposure, with additional security telemetry data, such as user location, access time, file changes, vulnerabilities and host configurations, advanced threats and more.
"The substantial investments in our Cloud Platform provide exceptional results in terms of specific context, real-time analytics, visibility and modularity to effectively support threat detection and response solutions such as SaaSDR," said Philippe Courtot, President and CEO of Qualys. "Dal momento che integrano la sicurezza nelle app SaaS, i connettori nativi di Qualys SaaSDR garantiscono un livello di trasparenza, dettaglio e accuratezza dei dati senza confronti, tutto da un'unica interfaccia, su cui i clienti possono fare affidamento per rendere le loro app SaaS sicure e conformi."
Features expected soon
Nel secondo semestre del 2021, Qualys prevede di aggiungere all'app funzionalità di risposta proattive, come la notifica in caso di esposizione dei dati e interventi di remediation automatici, in modo che i clienti possano risolvere i problemi di conformità ed esposizione nonché gestire automaticamente gli errori di configurazione, le vulnerabilità e le minacce con un solo clic. Qualys aggiungerà inoltre il supporto per altre soluzioni come Slack, GitHub e Microsoft Teams, insieme a controlli personalizzatati per consentire valutazioni mirate della postura di sicurezza.
Availability and webinar
SaaSDR è disponibile immediatamente. Per una valutazione della soluzione, consultare www.qualys.com/trySaaSDR. Per maggiori informazioni, partecipa al webinar Navigating the SaaS Technology Stack for Continuous Visibility and Compliance, previsto in data 3 marzo.