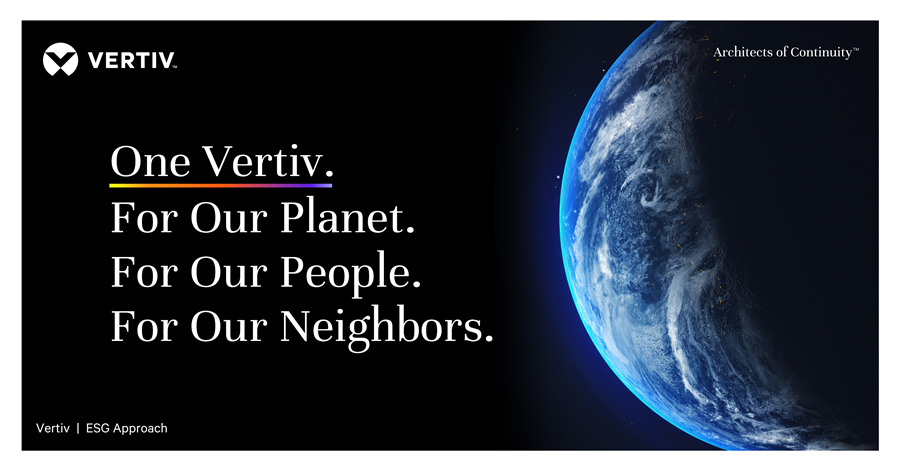 Il documento sottolinea gli impegni di Vertiv in materia di efficienza energetica e idrica, DE&I (Diversity, Equity & Inclusion), sicurezza e altre attività ESG (Environmental, Social and Governance)
Vertiv (NYSE: VRT), fornitore globale di soluzioni per le infrastrutture digitali critiche e di soluzioni di continuità, ha pubblicato il suo primo report sulle attività ambientali, sociali e di governance (ESG).
Il report delinea l'approccio di Vertiv all'efficienza energetica e idrica, alle pari opportunità e al tema dell'inclusione (DE&I), alla salute e alla sicurezza dei dipendenti e ad altri aspetti legati all'ESG. I contenuti analizzati nel report costituiscono una base di partenza su cui ogni organizzazione potrà sviluppare i propri investimenti futuri.
"Sappiamo tutti quanto la connettività sia indispensabile per le nostre attività quotidiane e per l'economia globale. Il fabbisogno di dati nel mondo continua a crescere e le nostre soluzioni assicurano che i sistemi per gestire i dati siano sempre attivi e connessi. Allo stesso tempo, riconosciamo gli impatti attuali e potenziali del cambiamento climatico", ha sottolineato Rob Johnson, CEO di Vertiv. "Stiamo cercando di soddisfare la crescente domanda di infrastrutture digitali critiche e, simultaneamente, di mitigare l'impatto ambientale delle nostre attività e dei nostri prodotti. Di conseguenza, stiamo investendo sull'innovazione per trovare modalità più efficienti ed efficaci per supportare le infrastrutture digitali critiche."
Il Comitato Direttivo Esecutivo per ESG di Vertiv, composto di leader senior che operano in Vertiv in diverse funzioni e territori, sta effettuando una valutazione delle performance ESG a livello aziendale. Alcune delle attività e dei risultati evidenziati nel report includono:
L'introduzione di prodotti nuovi e aggiornati con un'elevata efficienza energetica e idrica, con altri rilasci previsti nei prossimi mesi e anni.

La sottoscrizione di diverse partnership di settore mirate alla gestione dei data center in termini di efficienza ed emissioni, tra cui l'

EcoEdge PrimePower

Project (E2P2), la

Sustainable Digital Infrastructure Alliance

(SDIA), la

European Data Centre Association

(EUDCA) e il

RISE Partnership Program

.

Una revisione interna delle emissioni di gas serra di Vertiv negli ambiti di applicazione 1 e 2.

Lo sviluppo di benchmark sulle performance i sui miglioramenti per aiutare l'organizzazione a ridurre le emissioni di gas serra complessive.

Una riduzione del 12% rispetto all'anno precedente degli infortuni registrati in base al rapporto di infortuni totali registrabili (TRIR) definito dalla Occupational Safety and Health Administration statunitense.

L'introduzione di opportunità di formazione per supportare l'attenzione aziendale verso i temi di diversità, equità e inclusione.

La nomina di molteplici donne a posizioni dirigenziali in Vertiv negli ultimi due anni, tra cui Sheryl Haislet, Chief Information Officer, e Stephanie Gill, Chief Legal Counsel.
"Dato che l'Europa è leader globale per quanto riguarda gli obiettivi e le normative in materia di sostenibilità, questo report è particolarmente rilevante per Vertiv nella regione EMEA, all'interno della quale accentuerà lo slancio esistente nel Vecchio Continente, rafforzando al contempo i nostri obiettivi di crescita sostenibile in Medio Oriente e Africa", ha evidenziato Karsten Winther, presidente per EMEA di Vertiv. "Dobbiamo adottare un duplice approccio che ci consenta di allinearci alla crescente domanda del settore e allo stesso tempo di garantire l'esecuzione di pratiche responsabili."
Per ulteriori informazioni o per scaricare il report completo, potete consultare Vertiv.com.