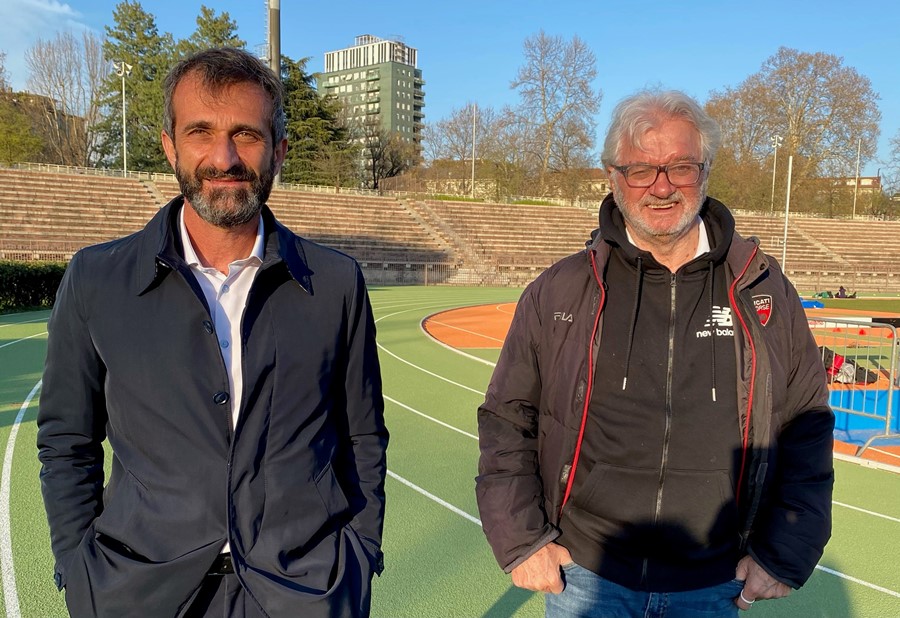 It is the annual meeting of walking and middle distance running organized by Top Training ADS which promotes athletics and running through the experience of the national coach Giorgio Rondelli and is scheduled at the Arena Civica in Milan
ESET, leader globale nel mercato della cybersecurity, è sponsor dell'iniziativa Walk & Middle Distance Night by ESET, un meeting nazionale di atletica leggera riservato alle sole discipline della marcia e del mezzofondo. L'evento è nato nel 2011 da un'idea di Giorgio Rondelli, tecnico nazionale di atletica leggera, giornalista sportivo e commentatore tecnico della RAI, e quest'anno si terrà la decima edizione in data 24 Aprile presso l'Arena Civica di Milano.
ESET, è un'azienda che si occupa di sicurezza informatica per le imprese da oltre trent'anni e crede fermamente nei valori dello sport, anche grazie al proprio Country Manager Italiano, Fabio Buccigrossi, che è anche un ottimo maratoneta.
Walk & Middle Distance Night by ESET (WMD-NIGHT) è uno dei più importanti meeting di atletica leggera che si svolge in Italia, una corsa su pista per le categorie giovanili e assoluti, che prevede la partecipazione di almeno 400 atleti, tra cui alcuni dei principali atleti italiani delle due discipline. Le gare inizieranno alle 15:30 ed è prevista la partecipazione di atleti nazionali durante le cinque ore di gare ininterrotte, alcuni dei quali tenteranno di ottenere i minimi di partecipazione per le Olimpiadi. L'evento sarà trasmesso in diretta streaming sul canale YouTube di Top Training.
"WMD-NIGHT è un evento unico nel suo genere, studiato con una formula moderna e accattivante, per chi partecipa e anche per gli spettatori, siano essi presenti sul campo oppure collegati online – sottolinea Giorgio Rondelli, Allenatore Nazionale di Atletica e commentatore sportivo -. "Sono gare di alto livello tecnico perché ideate in collaborazione con lo staff federale e siamo felici di essere riusciti a riconfermare l'appuntamento, pur ricordando che l'anno scorso, a causa dell'emergenza sanitaria, abbiamo dovuto rinunciarci. Per questa edizione avremmo voluto tornare al Centro Sportivo XXV Aprile di Milano ma, per problemi legati alla struttura degli impianti è stato necessario ripiegare sulla bellissima pista di atletica dell'Arena Civica, che ben si presta a rispettare le misure di distanziamento previste dal DPCM."
"We are happy to sponsor this important march and middle distance meeting and to be able to contribute to promoting athletics in our country" - underlines Fabio Buccigrossi, Country Manager di ESET Italia –. "Personalmente, trovo molteplici analogie tra il mondo del lavoro e quello dello sport e di come quest'ultimo possa diventare un vero e proprio modello di riferimento. Lo sport è fatto di allenamento e richiede impegno, poi bisogna gareggiare, confrontarsi con altri, anche con chi è più bravo di noi e serve trovare gli stimoli giusti per riuscire a migliorarsi e a vincere nuove sfide. Lo stesso vale nel mondo del business, dove ogni giorno abbiamo nuovi obiettivi e richieste di sicurezza da soddisfare e clienti da supportare nella protezione dei propri dati aziendali. Servono piani strutturati di training per raggiungere i traguardi sportivi e lo stesso avviene nel lavoro. Chi cresce nello sport da giovane acquisisce quei valori che nel futuro possono fare la differenza sia nell'attività professionale sia nella sfera privata – conclude Buccigrossi."