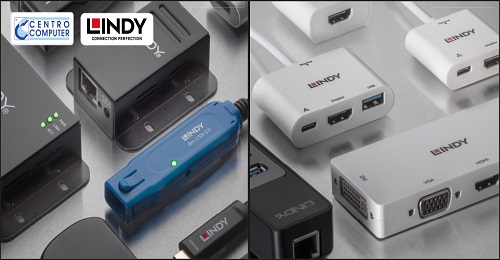 The system integrator renews its strategic collaboration with the German vendor, a world leader in cutting-edge connectivity solutions
Computer Center, a consulting company specializing in IT products, services and solutions for companies, renews its strategic collaboration with Lindy, a vendor of combined AV and IT connectivity solutions, specializing in the production of all types of cables for PC, SmartPhone, Tablet, audio and video. The partnership is part of the strategy for completing the offer of Digital Signage products and solutions for Smart Working already included in the system integrator's portfolio and intended for a multitude of environments and uses.
The Lindy group started its business in 1932 in Germany and is now present in 90 countries with 15 sales offices. Lindy is a global provider of connectivity solutions that allow you to share, convert and extend a wide range of digital and analog signals, enabling versatile and powerful signal distribution, essential in today's increasingly connected world. Lindy solutions are efficient and performing, suitable to operate reliably in the most varied contexts.
The partnership between Centro Computer and Lindy, consolidated for 10 years with jointly developed commercial initiatives, focuses on the delivery of combined connectivity solutions and accessories complementary to Digital Signage equipment. The range of products is aimed at every type of business, offering solutions designed to integrate the use of laptops with cables and adapters that facilitate both use in the office and remotely. In this way, Centro Computer further expands the line of products dedicated to Digital Signage and agile work.
"Lindy's solutions related to Digital Signage and Mobility are functional, of quality and with a very varied catalog offer, at very competitive prices. The scope of application of these products is very broad and having them on our price list allows us to respond perfectly to the requests of all customers ", he emphasizes Andrea Caprara, Head of the Digital Signage Division of Centro Computer. "Furthermore, Lindy provides valid support to direct the customer towards the most suitable solution for each individual need".
"Lindy has always been synonymous with innovation. We work to create technological and connectivity solutions with excellent characteristics to offer our customers efficient and performing products, solutions tested to work reliably in various contexts ", highlights Andrea Vanin, Lindy's Sales Account. "We are happy to continue our path with a partner such as Computer Center, which represents a guarantee of seriousness and professionalism, and for over 30 years has been working alongside Italian companies to help them improve their communication systems".
The two companies are working together to organize joint communication campaigns to present the constantly renewed range of solutions to the market.